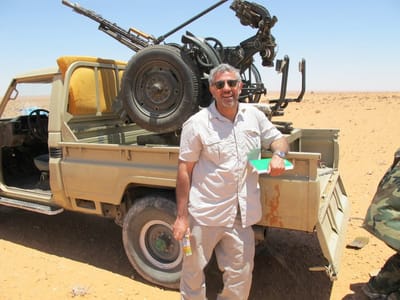 I am an experienced foreign correspondent covering the greater Middle East , North Africa, and Europe -- including Iran, Afghanistan, and Turkey -- for English-language news organizations. My geographical areas of speciality include Iran, Iraq, Turkey, Egypt, Syria, Lebanon, the Arabian Peninsula states, and North Africa, including
Libya
and Tunisia. I write about war, politics, economy, and culture.
I am an Istanbul-based international correspondent for
The Independent
, the UK-based newspaper. I am also a Senior Non-Resident Fellow at the
Scowcroft Center for Strategy
at the
Atlantic Council
, a Washington, DC think tank.
I am a three-time finalist for the Pulitzer Prize in International Reporting for coverage of
Iraq
and
Iran
.
I contribute to
Foreign Policy
,
The Atlantic
, and
The Daily Beast
, and am a frequent commentator and reporter on English-language radio and television in North America and Europe, including
France 24
and
PBS Newshour
as well as public radio outlets like CBC,
KCRW
, and
PRI's The World
.
I have worked for the Los Angeles Times,
Financial Times
,
BuzzFeed News
, and Associated Press.
My work has appeared in US publications including
The New York Times
, San Francisco Chronicle, Boston Globe, the Newark Star-Ledger, and the Pittsburgh Post-Gazette, and worldwide in
The Guardian
,
The National
(UAE), South China Morning Post, the Toronto Globe & Mail, the Singapore Straits Times, the Times of London, and the Independent (UK).
I have been a guest speaker at universities, and have also taught journalism to college students. I am a member of the
Overseas Press Club of America
.
To learn more, please visit my
LinkedIn
page. You can also follow me on
Twitter
.